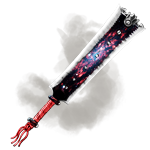 The Astral Edge is a Limited Edition Weapon for units purchased by using Blue Crystals. It is also able to get this weapon for your champion for 8,500 gold.
This sturdy weapon's double-edged blade combines the sharpest of metal with the power of the stars to slice foes with astral power. Though its lack of a tip means it forgoes the ability to stab, its slicing edge more than remedies this.
Protection: 0
Damage: 36
Bonus: +9 Power
Number in Existance: > 4500 (Exact number unknown)
When available: 2010-06.
Cost: 16 Blue Crystals.
Status: Sold out.
Related Articles
Edit