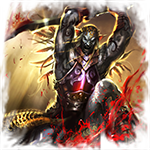 A Death Dealer is an assassin (Army soldier) purchased by using Blue Crystals.
Death Dealer assasins are renowned for their deadly abilities. Most foes taken down by a Death Dealer barely have time to realize their mistake in opposing this awesome foe, as the Death Dealers are both stealthy and quick, taking down opponents with ruthless accuracy.
Power: 85
Life: 300
Bonus: Double Damage 85% per hit.
Number in Existence: Unknown.
When available: 2010-06.
Cost: 27 Blue Crystals.
Status: Sold Out.
Related Articles
Edit