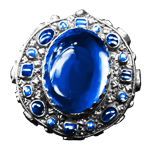 The Rune of the Seraphim is a Limited Edition Rune purchased by using Blue Crystals.
The Seraphim's light imbues this gem and will blind all enemies as well as condemn all evil. Fight the hordes of the undead and demonic monstrosities with holy light.
Protection: 0
Damage: 20
Bonus: None
Number in Existance: > 6500 (Exact number unknown).
When available: 2010-06.
Cost: 10 Blue Crystals.
Status: Available.
Related Articles
Edit