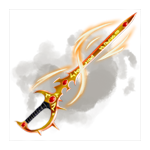 The Sun Sword is a Limited Edition Weapon purchased by using Blue Crystals.
Hiding within this sword is the raw power and heat of the blazing daystar. Though there is no visible fire to this blade, its ferocity becomes obvious in battle, the fearsome heat causing your target's armor to smoke and melt beneath your assault.
Protection: 0
Damage: 34
Bonus: +16 Power
Number in Existance: > 6800 (Exact number unknown)
When available: 2010-06-28.
Cost: 16 Blue Crystals.
Status: Available.
Related Articles
Edit